In late October, bombing in the besieged suburb near Damascus, Syria's capital, destroyed 3 months Karim's home and killed his mother. He's now being cared for by his brothers, the oldest of whom is just 11 years old, and his father.
Karim was just two months old when was seriously injured during a bombardment, as part of the ongoing civil war in Syria. The Syrian infant lost his left eye in the attack and his mother, Fadiya, was killed by the same bomb as she shopped with her child.
Just ten days later, when the baby was discharged from a makeshift hospital, a bomb through the roof the house crushed his skull. Abu Muhammad, Karim's father said: "Karim was wounded in his head and eyes. The bone in his head was broken."
Read More: 23 Civilians, Including Eight Children Were Killed By US-Led Coalition In Syria
A freelance photographer who works in Damascus, Amer Almohibany Tweeted: "I was very touched by this sad story. Even after I left Karim [he] did not leave my memory," he added: "When I returned to the house stood in front of the mirror and covered my eyes with my hand and tried to live that experience."
Almohibany photographed his son with one eye covered to invite the whole world to sympathize with innocent Syrian children who are still living under daily bombardment.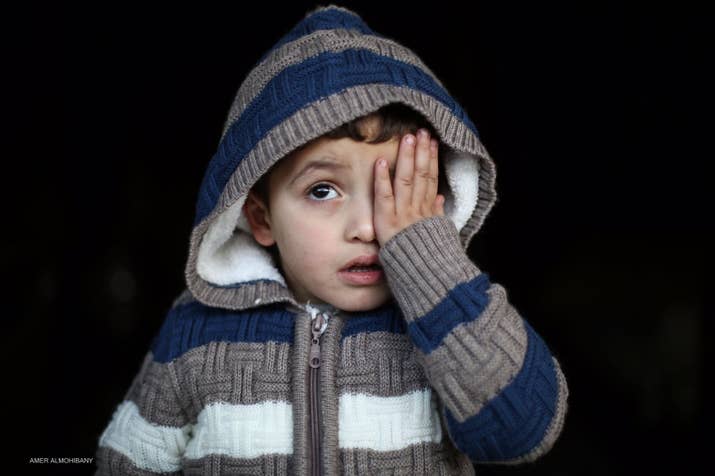 Later, many Syrians and their children also posted pictures in support of Karim on Twitter, using the hashtag #SolidarityWithKarim. Karim has become a symbol of 400,000 civilians's suffering in eastern Ghouta, the area which has been under siege since 2012.
We stand in #SolidarityWithKarim#BreakGhoutaSiege#Ghouta#Syria pic.twitter.com/OIz4e7D9Mx

— Noor And Alaa (@Noor_and_Alaa) December 18, 2017
Children from the city of # Daraa stand in solidarity for Karim who lost one eye as a result of the bombing of the regime forces on the eastern Ghouta#SolidarityWithKarim pic.twitter.com/dJwNMVWvHs

— B&n&dict (@benedicte36120) December 18, 2017
Abdul Baset Al-Sarout is in #SolidarityWithKarim
(#stolenphoto)#Syria #revolution #18thdecember pic.twitter.com/ec1XRG21DD

— SocialmediaLcolica (@talentosprecato) December 18, 2017
Karim lost his left eye and his mother got killed in a massacre of 8 martyrs in that day.

After that, Activists have started a media campaign to solidarity with Karim using #SolidarityWithKarim pic.twitter.com/C8yyvHGpf1

— Ghouta Media Center (@Ghouta_GMC) December 18, 2017
UOSSM, the Union Of Medical Relief Organizations, which supports doctors in Syria also posted a photo to sympathize with Karim.
@uossmCan is in solidarity with Karim, A two-month-old Syrian Child who lost his eye, severely damaged his skull and lost his mother when they came under artillery bombardment in #EasternGhouta. #SolidarityWithKarim #SaveEastGhouta pic.twitter.com/illF1B1rav

— UOSSM Canada (@uossmCan) December 19, 2017
The British ambassador to the UN, Matthew Rycroft also joined the campaign and said: "When we sit around the #UNSC & warn that inaction will mean more people are going to die. More schools bombed. More children scarred. This is what we mean." He added: "We must see an end to the bombardment and siege of eastern Ghouta."